Professor Rakesh Kumar
(Professor)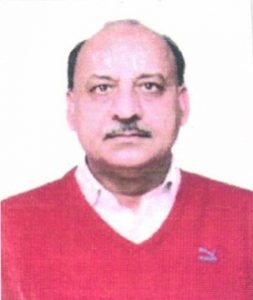 Dr. Rakesh Kumar completed his M.Sc. and M.Phil from GNDU, Amritsar. After completing his Ph.D degree in Organic Chemistry from University of Delhi in 1990, he joined Kirori Mal College as a Lecturer. There he taught undergraduate students for 25 years. He has also taken classes of M.Tech. (CSPT) students in the Department of Chemistry, University of Delhi. He is working as an professor in the Department of Chemistry, University of Delhi since 2015. He has worked in the field of alkaloids during his Post-doctorate research in Faculty of Pharmacy, University of Barcelona, Spain. His field of specialization is Synthetic Organic Chemistry/Medicinal Chemistry which includes, design and synthesis of biologically active 1,4-Dihydropyridines, Azasugars, Alkaloids etc. and their applications as metal sensors and Bio-imaging. Dr. Rakesh Kumar has written eight books for Undergraduate and Post-graduate students published by International and National publishers such as Wiley, Narosa, Ane etc. Dr. Rakesh Kumar has published more than 40 research papers in National and International journals. He has been granted research projects by DST, UGC, DRDO and University of Delhi. He is life member of several professional academic bodies such as Indian Science Congress Association, Indian Society of Analytical Scientists, Delhi Chapter, Indian Society of Chemists and Biologists and Association of Carbohydrate Chemists and Technologists India. He has chaired/presented papers in several international and national conferences/symposium etc.
Selected Publications:
Jain R; Gahlyan P.; Dwivedi S.; Konwar R; Kumar S.; Bhandari M.; Arora R.; Kakkar R.; Kumar R. and Prasad. A. K, Chemselect D.O.I. EMID:731ebcdb218968aa.
Kumar R.; Jain H.; Gahlyan P.; Joshi A. and Ramachandran C.N. New journal of Chemistry 2018 D.O.I:10.1 039/C8NJ0 0918J 2018.
Mishra P. K.; Kumar R. and Rai P. K. Nanoscale 2018, 10, 7257-7269.
Poonia E.; Mishra P. K.; Kiran V.; Sangwan J.; Kumar R.; Rai P.K. and Tomer V. K, Dalton Transactions 10.1039/C8DT00106E .
Kumar R.; Gahlyan P.; Verma A.; Jain R.; Das S; Konwar R. and Prasad A.K. Synthetic Communications 2018, 48, 778-785.
Mishra P.K.; Saxena A.; Rawat A.S.; Dixit P.K.; Kumar R. and Rai P.K.. Environment Progress & Sustainable Energy 2018, 37, 221- 231.
Kumar R; Gahlyan P; Yadav N; Bhandari M; Dalela M. and Prasad A.K. Dyes and Pigments 2017, 147, 420-428.